The Sacramento Update: February 2021
Date posted
February 4, 2021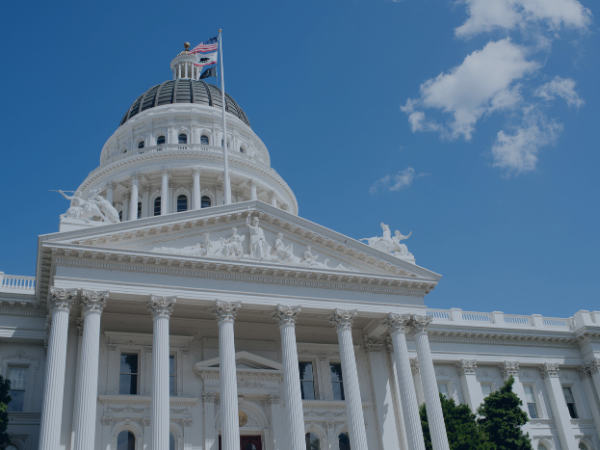 Senate Bill 91 Passes on January 29, 2021
The Legislature is back in session and its first major action was the passage of Senate Bill 91 during the final week of January that extended the State's eviction moratorium through the end of June and established a $2.6 billion rental assistance program made available through Federal Government COVID-19 relief funds. The Apartment Association of Greater Los Angeles lobbied the Governor's Office, Business Consumer Services and Housing Agency (BCSHA), and with key Legislators for the shortest extension possible and for the eviction moratorium extension be tied to the establishment of a rental assistance program.
Since passage of Senate Bill 91, we have continued our lobbying efforts and have been communicating with the BCSHA and HCD as they work to roll-out the rental assistance program. We are demanding that the process to be streamlined and that the money be remitted to property owners as soon as possible. The BCSHA held a stakeholder webinar on Monday, February 1st where the process and timeline for distributing rental assistance funds was discussed. We learned a vendor, LISC, has been retained to administer the distribution of federal assistance funds.
A brief overview of Senate Bill 91and the proposed rental assistance program follows:
Extensions
Extends "Transitional Time Period" from January 31, 2021 to June 30, 2021 (previously expired on January 31, 2021). If resident pays at least 25% of their rent due for each of the months from September 1, 2020 to June 30, 2021, they will be protected from eviction. The 25% must be paid on or before June 30, 2021, and there is no obligation to make periodic payments – the 25% may be paid as a "lump sum" at anytime on or before June 30, 2021.
Extension of Just Cause Protections
Requires all terminations of tenancies be for just cause through June 30, 2021. Extends expiration date of prohibitions on retaliation because of COVID-19 rental debt from February 1, 2021 to July 1, 2021.
Small Claims Court
Delays landlord access to small claims court for COVID-19 rental debt until August 1, 2021 (Previously March 1, 2021).
Rental Assistance
Establishes a rental subsidy program. Assistance is to be paid directly to property owner. Each local Housing Agency / Housing Department will have a public facing portal through a Community Development Financial Institution (CDFI) and available for online applications by March 15, 2021. Either rental property owners or renters may apply for this relief. Relief covers past due rent for existing tenants (including any other financial obligations due under the lease – except damage to a rental unit).
The program will pay landlords up to 80% of the rent in arrears (not total rent for the period) between April 2020 and March 2021, and a landlord must agree to forgive the remaining 20% and not pursue eviction for non-payment or any other curable breach of the lease.
Alternatively, the program will pay landlords 25% of rent in arrears between April 1, 2020 and March 31m 2021, if landlords will not forgive unpaid amounts and forego eviction. Additionally, tenants may apply for payment 25% of rent due for up to 3 months for the months of April, May, and June 2021. (If tenants pay 25% of rent due between September 1, 2020 and June 30, 2021 and sign a declaration under penalty of perjury declaring COVID-19 financial related distress, the balance of rent due, or 75%, is converted into consumer debt and non-payment would not constitute a basis for eviction.)
Rental Relief Funding Priorities
Funding will first be made available to those with household income of less than 50% of the Area Median Income (AMI) for the county where the rental unit is located, second to communities disproportionately impacted by COVID-19, third to those with household income of less than 80% AMI.
New Informational Notice Due by February 28, 2021
Service of a new informational notice to all tenants who, as of February 1, 2021, have an outstanding rent balance is required. (Note: This new form and all other required Senate Bill 91 forms are available in the Apartment Association of Greater Los Angeles' forms library.)
COVID-19 Debt Not Allowed as Factor in Tenant Screening
Housing providers and tenant screening companies are now prohibited from using COVID-19 rental debt as a "negative factor for the purpose of evaluating a prospective housing application or as the basis for refusing to rent a dwelling unit to otherwise qualified prospective tenant."
Sale or Assignment of COVID Debt Temporarily Prohibited
The sale or assignment of COVID-19 rental debt is temporarily prohibited until July 1, 2021. Additionally, the sale or assignment of COVID-19 rental debt for certain individuals who qualified for rental assistance, where the person's household income is at or below 80% of AMI for the 2020 calendar year.
Increased Fees / Decreased Services Prohibited
Increasing fees to a tenant or charging fees for services that were previously provided without charge is prohibited.
Breach of Contract Actions to Recover COVID-19 Rental Debt
A landlord must make a "good faith effort" to seek available government rental assistance for the tenant and/or cooperate with the tenant's efforts to obtain governmental rental assistance. A landlord must attach documentation of the foregoing to any complaint seeking payment of COVID-19 rental debt. This requirement: however, does not apply to certain jurisdictions that received a direct allocation of assistance under the Consolidated Appropriations Act.
Security Deposit
Prohibits landlords from applying a security deposit to a resident's COVID-19 rental debt during the tenancy without tenant's written consent but permits application of deposit to COVID-19 rental debt after the tenancy terminates.
Preemption / Interaction With Local Laws
Prohibits extension or expansion of local eviction moratoria (beyond what was in place on August 19, 2020) until July 1, 2021.
Repayment of COVID-19 Rental Debt
The latest start date of repayment under a local moratorium from has been changed from March 1, 2021 to August 1, 2021. Also, the latest end date of repayment under a local eviction moratorium has been changed from March 1, 2022 to August 1, 2022.
---
Kate Bell Strategies and Capitol Advocacy has been consistently ranked among California's top lobbying firms. The firms specialize in lobbying, strategic planning, coalition building, budget advocacy, procurement, and political involvement. Kate Bell Strategies and Capitol Advocacy represent the interests of the Apartment Association of Greater Los Angeles in association through its affiliation with the California Rental Housing Association. Both firms are based in Sacramento.