By Taking Advantage of State's New ADU Laws, AAGLA Member, Matt Millen is Providing New Affordable H
Date posted
February 5, 2021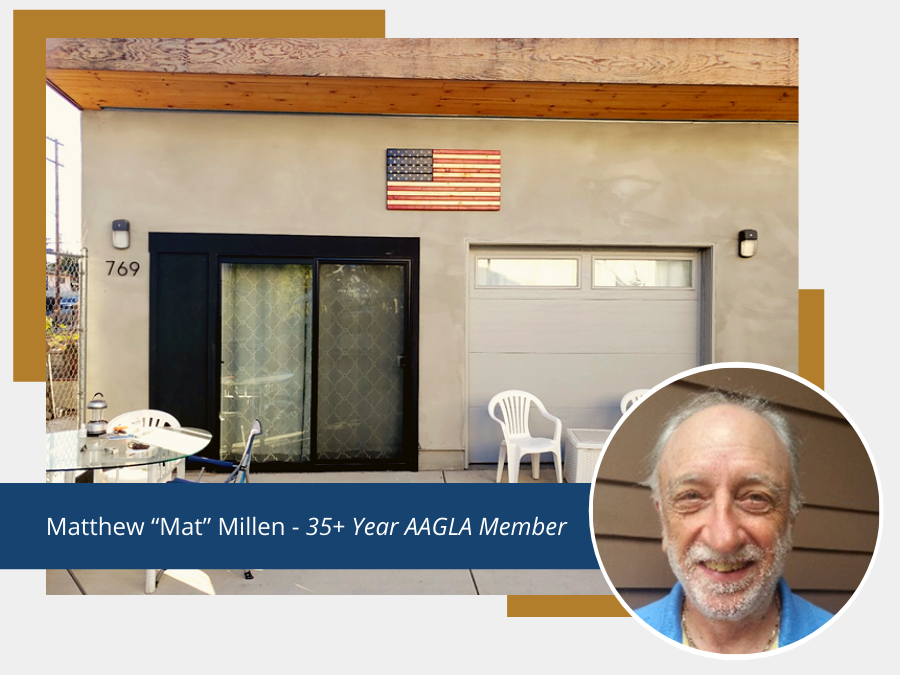 Mat Millen is an attorney and earlier in his career (1976 to 1981), he worked for the Legal Aid Foundation of Long Beach in its San Pedro Office. While working at the Legal Aid Foundation, he had many clients who were senior citizens struggling to survive on just their Social Security and Supplemental Security Income (SSI) payments. As an employee of the Legal Aid Foundation, Mat was not provided with a pension or any retirement benefits and wanted to find a way to retire more comfortably.
Not wanting to someday find himself in the same situation as his legal clients when he retired, he carefully saved his "meager," as he describes it, salary and borrowed against a life insurance policy purchased during college for the down-payment and invested in a small duplex in San Pedro with the idea that the rental income would supplement the Social Security benefits he would someday receive. Matt lived in the two-bedroom unit and rented the studio apartment at his duplex to help pay his mortgage.
About 40 years later, in 2016, the garage at his duplex had caught fire and burned down. Wanting to construct a one-bedroom rental unit where the garage previously stood, Mat applied for a building permit only to discover that the City of Los Angeles had "down-zoned" his R-3 property to a R-1 property. Because there were already two units on the R-1 property, his only option was to construct a new garage to replace the old garage, and so he rebuilt the garage, but larger than the original so that it could accommodate two cars at 24' x 24' hoping that someday the laws regulating accessory dwelling units or "ADUs" would change and permit construction of another rental unit at his property.
Then, in 2019 the State's Legislature did just that by passing Assembly Bill 68, which eliminated many of the impediments to developing ADUs or so-called "Granny Flats". This new law allows owners of single-family homes to create junior accessory units out of a primary residence and permits building of accessory dwelling units. Accordingly, he soon applied to the City of Los Angeles to convert the garage into an accessory dwelling unit or as Matt describes it, a one-bedroom house. By November 2020, the work was completed and the Certificate of Occupancy was issued. Not long after, the new one-bedroom unit was rented to a Section 8 tenant. As Mat stated: "This is just one example of how rental property owners like me and many other members of the Apartment Association of Greater Los Angeles are providing affordable housing to residents of the Los Angeles area." This was a job well-done, Mat!
Mat joined the Apartment Association of Greater Los Angeles in the late 1980's after meeting former Board Members Joel Goldfarb and Al Rosen, and voicing concerns to them that the tenant advocacy group Santa Monicans for Renters Rights had been demonizing rental housing providers. Commenting on the perception of landlords, Mat stated: "From my experience and observations, the overwhelming majority of owners are responsible businesspeople seeking to provide safe, clean housing and securing a reasonable return on their investment." Mat also expressed his observations about the Apartment Association of Greater Los Angeles: "After I joined, I soon learned that AAGLA works very hard to protect the interests of small property owners like me who own units to support themselves while working at a fulltime job and later when they retire. AAGLA also has excellent owner education programs to keep owners apprised of all the changes in laws and regulations that impact our industry."
---
You Too Can Be Our Member Spotlight Of The Month: If you are interested in being featured in a Membership Profile article, please contact Diana@aagla.org or Jessica@aagla.org.