The Results Are In: A Quick Look at the November 3rd Election Results
Date posted
November 13, 2020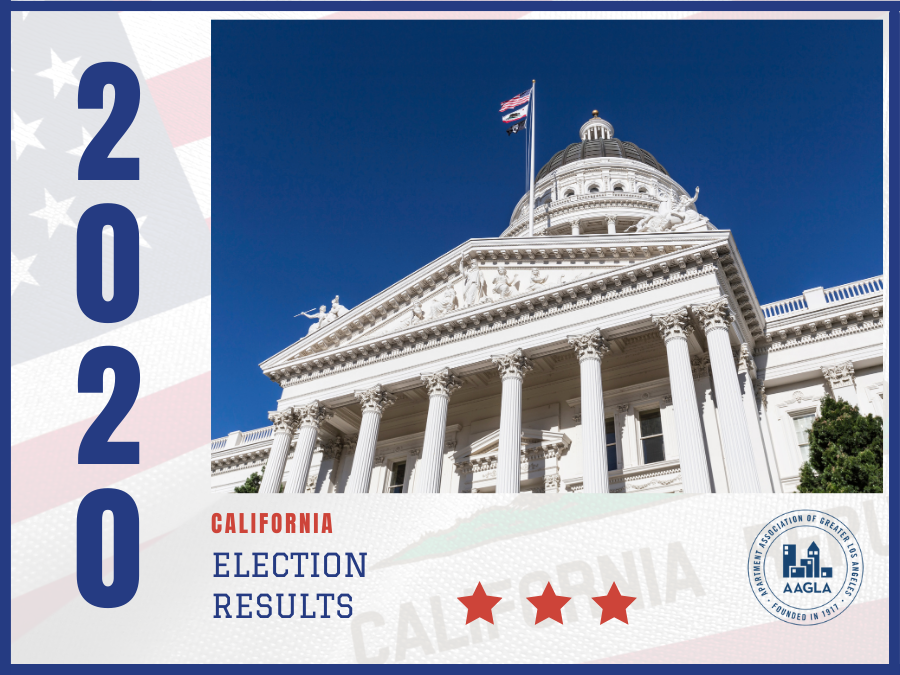 Although the presidential election sucked most of the air out of the room, the election in California provided several interesting and, in some cases, unanticipated outcomes for both the State legislative races and the 12 ballot measures. The following is brief recap of the Election Day outcomes.
State Legislature
Going into Election Day, most predicted that Democrats could be on pace to beat Republicans in five competitive State Assembly seats. There were estimates that there could be 65 Democratic Assembly Members (out of a total of 80 seats). Looking at the State Senate election, all four competitive seats were controlled by Republicans, and there were estimates of Democratic Party majority in the Senate of 35 Senators (out of a total of 40 seats). Here are the results as of November 9, 2020:
| | | | | | | |
| --- | --- | --- | --- | --- | --- | --- |
| | Before | | After | | Changes | |
| Branch | Assembly | Senate | Assembly | Senate | Assembly | Senate |
| Democrats | 61 | 29 | 60 | 31 | <1> | <2> |
| Republicans | 18 | 11 | 19 | 9 | +1 | +2 |
| Indeendents | 1 | --- | 1 | -- | -- | -- |
As of the date of this writing, in the State Assembly race, there is one race that is too close to call that is trending towards another seat turning for Republicans. For the Senate, there are two races that are too close to call that that are trending towards two seats turning for Democrats.
It is too early to understand all of the data that has resulted in a huge let down for the Assembly's Democrats and a somewhat successful election for the Senate's Democrats. An early explanation would be that all of the Assembly seats were up for election in 2018 when our State experienced the so-called "blue wave," so it possibly makes sense that if the Republican Assembly Members could succeed in 2018 they were in a good position to win again in 2020. However, only half of the Senate districts were on the ballot in 2018, so the other half were yet to be tested which could explain the Democratic seat pick-ups.
What Does All of This Mean Going Into the Next Legislative Session?
Going into the upcoming legislative session, the Assembly's Democrats still have such a wide margin to protect their super-majority that even with the few seats switching parties, there will not be much of a difference. However, with the Senate Democrats widening their much narrower margin, it is safe to say that the overall outlook of the Legislature will be even more progressive than last session.
We had hoped that the Senate might be moving to a position where a core group of moderates could influence outcomes, but that is no longer the case. An example given frequently is a tax vote which would require a two-thirds majority. In the Assembly you will still need all the Republicans and then six Democrats to vote against a tax increase. While in the Senate, it looks like you will now need all the Republicans and five Democrats to defeat a tax increase. With the current budget deficit caused by COVID, these numbers will likely be tested next year.
The Domino Effect
With a Biden / Harris victory there will likely be several appointments made coming from California that will possibly result in several dominoes falling. The first big domino will be who the Governor appoints to replace Senator Harris. The front runners include the Secretary of State, Attorney General, and the Lieutenant Governor.
State Senator Holly Mitchell will be sworn in as a County Supervisor, which will create a vacancy for her senate district that an Assembly Member has already declared. This Assembly Member will likely run for and if she wins, that will open a new State Assembly seat.
In Biden's administration, we may likely see California congressional members, large city Mayors, and others picked to lead to several State Assembly Members and Senators trying to move on and will result in several special elections during 2021. Moreover, every ten years our Sate also redraws the district lines which will result in many additional changes prior to the 2022 election. Those new re-districting lines will be released in 2021.
The 2020 Ballot Initiatives
Uber and Lyft had a big night as their $200 million campaign for Proposition 22 ballot measure to keep their drivers as independent contractors (following the passage of Assembly Bill 5) passed. The rent control measure, Proposition 21, failed for a second election in as many years by a 60% to 40% margin, and Proposition 15, the so-called "split-roll" ballot initiative which would have increased commercial property taxes for certain businesses also appears to have failed as of the date of this writing. A union health care initiative that was heavily opposed by dialysis clinics was soundly defeated, while the privacy initiative spearheaded by Senator Bob Hertzberg appears to be on a path to victory.
One big takeaway here in Sacramento was the large unions lost all the statewide ballot measures they were pushing. We will likely see more industries with deep pockets skip the legislature and take their issues to the California voters that on many issues are more moderate than the legislature. In all, the voters rejected four legislative measures. It is likely we will also see more referendums on legislation such as the Bail Bonds Industry taking on a law passed by the State Legislature to end cash bail and putting it on the ballot. Ballot measures require the California voters to vote yes in order for the law to take effect, which is a tough hurdle. The Bail Bonds industry was successful and the voters overwhelmingly voted against the previously passed new law.
Overall, while it was a strong night for elected Democrats in the state, the mixed bag on progressive ballot measures and the relatively surprising fight delivered by the Assembly's Republicans will likely give the minority party in the state a small glimmer of hope heading into the 2022 election cycle. While there is no way the night could be characterized as a victory by the minority Republican party, there are several data points that could give them some actual hope for 2022.
---
Jonathan Arambel is the Founder and Principal of Third House, LLC a Sacramento, California based lobbying firm. Jonathan is the former Chief of Staff for the California State Assembly and has been a lobbyist for the Apartment Association of Greater Los Angeles for approximately 5-years.