Post-COVID Cleaning and Turnover Protocols for Your Rental Property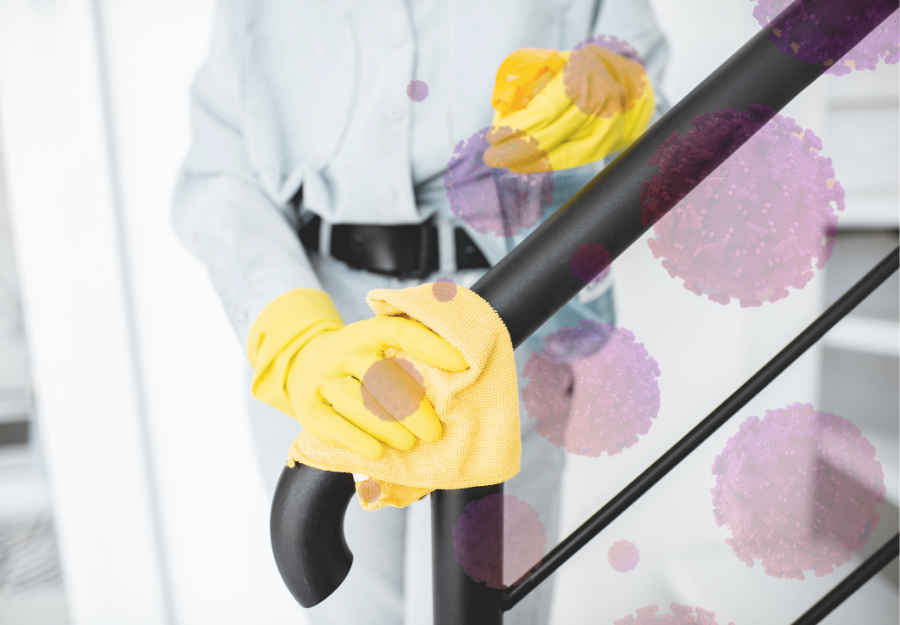 Find out the latest guidelines for cleaning and preparing a rental property between tenants.
Cleaning and turning over a rental property between tenants is always a big responsibility, as is onboarding the new renter. However, in the age of COVID-19 and a host of new protocols for optimal hygiene standards, these normal processes have taken on new importance.
How can you ensure that you are cleaning the rental property properly? How can you make showings and the application process healthier? How can you make the move-out process cleaner? What surfaces will need special attention?
COVID-19 and Surfaces
The CDC has said that COVID-19 is transmitted primarily person to person through the air, rather than on surfaces. However, the virus can be transmitted on surfaces, though it is not yet known how frequently this occurs.
COVID-19 can live in the air and on surfaces for an extended period of time, from several hours to several days. A review of current studies from the National Institutes of Health (NIH) shows the following:
Viable on plastics: up to 72 hours
Viable on stainless steel: up to 48 hours
Viable on cardboard: up to 24 hours
Viable on copper: up to 4 hours
Viable in airborne droplets: approximately 3 hours
For this reason, you will want to pay special attention to your cleaning protocols both during the turnover process and while marketing the property. In addition, you should be especially mindful when entering a home after move-out. Wear gloves and a mask and be careful when removing or transporting any items that have been left behind by a previous tenant. Avoid touching your face and wash hands frequently.
For rental properties, commercial spaces, and other businesses, the CDC has outlined reopening guidelines to assist owners and managers.
The Seven-Day Rule
According to the Centers for Disease Control (CDC), if an area has been unoccupied for seven days, it does not require additional disinfecting to prevent transmission of COVID-19. If you are able to leave your property empty for a week, you will be able to conduct your normal cleaning and turnover routine between tenants.
Disinfecting Products
For areas that need to be disinfected, the CDC has provided a handy list of cleaning products that have been shown to be effective in killing the COVID-19 virus. Note that in many cases, it is important not only to use the correct product but also to have it in contact with the surface for a sufficient amount of time.
Outdoor Spaces
Because sunlight and fresh air have been shown to be effective disinfectants, the CDC generally does not recommend disinfectant cleaning for outdoor spaces, except in the case of frequently touched outdoor surfaces like furniture. There is no evidence that the virus can spread in outdoor pools and hot tubs and proper maintenance and disinfection should be sufficient to protect tenants. However, outdoor play surfaces may pose more of a risk and should be properly cleaned.
Solid Surfaces

The CDC recommends cleaning and disinfecting the following high-touch surface areas commonly found within homes and offices:
tables
doorknobs
light switches
countertops
handles
desks
phones
keyboards
toilets
faucets and sinks
Clean these when you first go into the home after move-out and again whenever anyone else has toured or worked in the home.
Soft Surfaces
For soft surfaces, like rugs, window coverings, or furniture, the CDC recommends cleaning as usual with cleaners appropriate for the surface, the warmest water safe for the fabric, while allowing soft surfaces to dry completely before use. According to the Environmental Protection Administration, no disinfectant can claim to disinfect soft surfaces. In most cases, standard cleaning protocols are sufficient.
Conducting a Socially Distanced Open House or Tour
Whether you are holding a drop-in style Open House or offering a series of scheduled home tours on a designated day, you'll want to put into practice some new protocols in order to limit COVID-19 exposure.
Forego the usual coffee bar, beverage station, or buffet in order to limit eating, drinking, and virus transmission.
Replace soft surface seating for visitors with hard surface chairs that can be wiped down frequently with a disinfectant cleaner.
Encourage the wearing of masks by visitors and workers while in the home and provide masks, if feasible.
Wipe down high-touch surfaces frequently, especially between showings.
If weather permits, open up windows and doors and let fresh air and sunshine into the home.
Practice social distancing and limit the number of people who can be in the space at any given time.
Where practical, leave interior and exterior doors open and keep light switches on so that fewer people touch these surfaces.
If you normally allow potential renters to sign in on an iPad or clipboard at open houses, begin having an attendant sign them in instead.
Set up a hand-washing station and place hand sanitizer throughout the home.
For the safest option, encourage virtual tours whenever possible. Always note this option on promotional materials and MLS listing notes.
Create a More Sanitary Application Process
If you are used to sitting down with potential applicants, discussing the property, then facilitating a paper-based application and screening process, this is a good time for you to switch over to an app- or web-based application solution.
Obtain an email address or phone number from interested potential renters, then send along an online application for them to fill out and return electronically. Use electronic signature platforms in order to simplify the process even more.
Conduct your rental screening, credit reporting, and document gathering process online or through upload to a mobile application platform in order to streamline the process and prevent surface transmission through driver's licenses, documents, pens, and folders. In addition to providing a healthier application process, this also increases information security by storing documents remotely for as-needed retrieval.
---
RentSpree is the preferred, online tenant screening provider of the Apartment Association of Greater Los Angeles. With it, you can put together a completed application package in one simple step. This includes a completed rental application, credit report and score, criminal background check, and national eviction history. RentSpree can handle the entire screening process for you and it takes just two minutes to start screening! Better yet, you can receive all reports back instantly at the property or at another time of your choosing. Visit https://aagla.rentspree.com to learn more.