Demystifying California's Accessibility Requirements for Affordable Housing
Date posted
April 13, 2022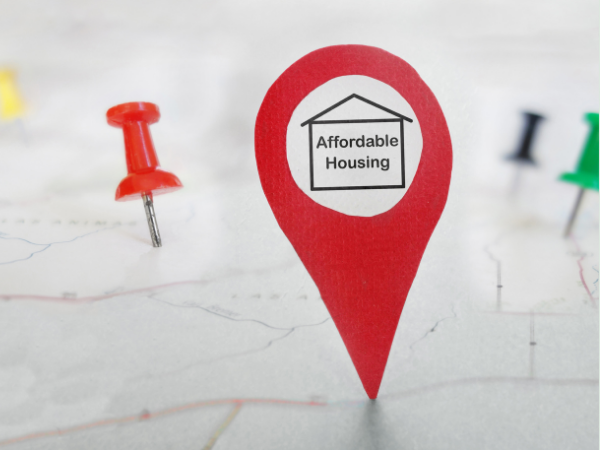 This article was contributed by Christy Kim, AIA, CASp, Technical Director of Accessibility, Partner Engineering and Science, Inc.
(Editor's Note: The month of April is National Fair Housing Month. In the spirit of National Fair Housing Month, we bring you this article about accessibility requirements for affordable housing.)
Since 1970, California has been facing a housing shortage throughout the state. Over the years, state and local agencies have continued to provide funding for new affordable housing stock. However, a complex and stringent set of environmental, safety, and accessibility requirements, coupled with the increasing costs of labor and construction material, has slowed down the real estate development pipeline more than expected.
As California's housing gap continues to grow, federal, state, and local accessibility requirements for new developments have also gotten a lot more complicated. While specifics of accessibility compliance will vary by project, below are answers to some common accessibility questions along with guidance about where to draw the line between doing your research and hiring a consultant.
What Are Some Program-Specific Accessibility Requirements?
The California Tax Credit Allocation Committee (CTCAC): The 2021 CTCAC regulations require all new construction projects to provide 15% units with mobility features and 10% units with communication features. "Rehab" projects must provide 10% units with mobility features and 4% units with communication features. These units must comply with the technical requirements outlined in Chapter 11(B) of the California Building Code (CBC) and represent an increased quantity over

California Building Code
Voluntary Compliance Agreement (VCA) between the City of Los Angeles and the U.S. Department of Housing and Urban Development (HUD):

This agreement is for projects located in the City of Los Angeles. When projects are rehabbed or where there is new construction, 11% of units with mobility features and 4% of units with communication features are required. These projects also include an additional review by the local government, the Los Angeles Housing Department (LAHD), and the city-designated Neutral Accessibility Consultant (NAC).
Tax Equity and Fiscal Responsibility Act (TEFRA): TEFRA projects are also considered a program administered by the state, therefore required to comply with the Title II of the Americans with Disabilities Act (ADA) and

California Building Code, Chapter 11(B).
In California, funding updates and their respective accessibility requirements are sent by the Department of Housing and Community Development through the Notice of Funding Availability (NOFA) Calendar. In addition to Chapter 11(B) of the California Building Code, some jurisdictions require additional accessibility requirements such as universal design.
Additionally, all state or local programs, including the above, are required to comply with Title II of the Americans with Disabilities Act and possibly Section 504 of the Rehabilitation Act if Federal funding is involved. Projects constructed after March 13, 1991, must also comply with Chapters 11(A) of the California Building Code and the Fair Housing Amendments Act (FHAA).
How Does an Accessibility Consultant Work?
An accessibility consultant works with the property owner, developer, architect, and builder to make sure the rehabilitation of an existing property or the construction of a new property complies with the required accessibility codes. In the case of affordable housing, funding requirements for accessibility vary based on the funding stacks per development. The consultant will research and review federal, state, and local laws and building codes, whichever is more stringent, to provide design document reviews, Request for Information and submittal review, construction progress monitoring, and accessibility compliance reports.
Common Accessibility Mistakes in California Affordable Housing Development
The Pre-Design: The project team is unaware of the specific accessibility requirements for the subject property.
Accessibility codes change every three years, and requirements under different programs change often. At times, even experienced project teams are unaware of these changes. A recent project had CTCAC funding. The project team was unaware of the 2021 changes in CTCAC accessibility requirements; specifically, the required number of mobility units for new development had increased from 10% to 15%. This error could have been avoided with an accessibility review before the design phase to ensure that a compliant number of mobility features were provided.
During Construction Document Review: Reviewers might fail to address all applicable standards.
Construction documents can be completed and approved by local authorities in many areas that do not conform to Federal accessibility laws and standards. Although many Federal and building code requirements are similar, the building department does not review federal accessibility standards. Additionally, out-of-state architects chosen for California projects may not be familiar with all the requirements of the California Building Code. An accessibility consultant can review all applicable standards as part of a construction document review to identify and correct non-conforming items early before construction starts.
During Framing, Millwork, and Drywall: Accessibility clearance can be easily overlooked.
Designs can be approved and conform to minimum accessibility requirements; however, site conditions and construction almost always vary from approved plans. As an example, the need for larger clearances in bathrooms, kitchens, and door landings can later become a costly expense if constructed incorrectly, especially if the same condition exists in several floor plans across all units. When engaged in construction progress monitoring, an accessibility consultant can catch these kinds of problems early to reduce the likelihood of non-compliant builds and expensive corrections.
Meeting accessibility requirements for affordable housing projects in California is not one-size-fits-all. Savvy project teams engage accessibility consultants early in the development process and retain them through construction to ensure continuity of oversight on accessibility and regulatory requirements. A qualified accessibility consultant can offer plan reviews, RFIs, construction monitoring, site visits, optimized design solutions, and help developers avoid costly mistakes that could result in potential lawsuits.
---
Christy Kim, AIA, CASp serves as a Technical Director of Accessibility for Partner Engineering and Science, Inc. She has fifteen years of experience in the architectural, engineering, and construction service industries, and has performed Americans with Disabilities Act (ADA) surveys, Fair Housing Amendments Act (FHAA) surveys, Certified Access Specialist (CASp) surveys, accessibility consulting, technical design and consulting for architectural firms, and accessibility consulting and remediation design projects for building owners. Partner Engineering and Science, Inc. offers full-service engineering, environmental and energy consulting and design services. For more information, go to www.partneresi.com.