COVID-19 Cleaning: We're Keeping AAGLA Employees and Members Safe and Healthy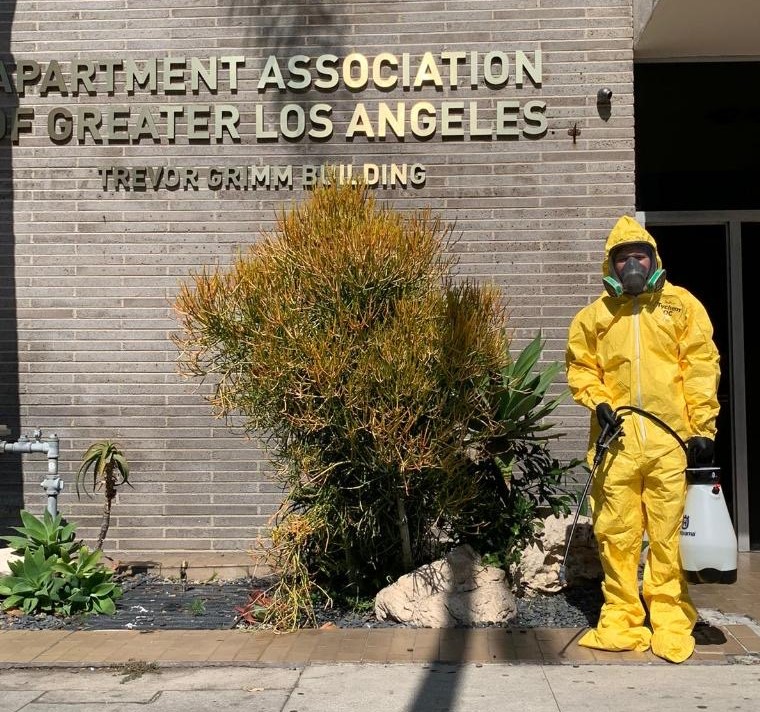 To help prevent the spread of the Coronavirus, the Apartment Association of Greater Los Angeles recently completed a special cleaning process at its offices. Not only have we been cleaning and sanitizing every "nook and cranny" more often than usual and in more places, we have been paying special attention to "high-touch" surfaces such as handrails, door handles, elevator buttons, and restrooms, and we recently brought in one of our newest Vendor Services Council Members, Toro Water Damage and Mold Remediation, to provide our headquarters with an "uber" enhanced cleaning. Following this enhanced cleaning on top of the rest of our stepped-up cleaning protocols, we are getting ready to invite our members back into our offices.
On June 17, 2020, we will be holding the first of six sessions of our Certified Apartment Manager (CAM) course led by renowned apartment management expert, Angel Rogers. Following the month of July, we start-up a new session of our Certified Apartment Maintenance Technician (CAM-T) course and our latest certification course, National Apartment Leasing Profession (NALP). We are limiting the enrollment in each of these courses to maintain safe social distancing among attendees. Sometime during the months of July or August, we will again open our offices to member walk-ins for those seeking forms and operational advice.
The Apartment Association of Greater Los Angeles is fully committed to ensuring the health and safety of our employees and all of our members, and we have been and will continue to take meaningful steps toward strengthening these important health and safety protocols.
Thank you to Jesus Toro, President of Toro Water Damage and Mold Remediation, for making all of us safe and keeping us healthy. You can reach Toro Water Damage and Mold Remediation at (714) 422- 5026 for a moisture check and a FREE estimate.